July 16, 2020 
* The dollar bugs bite back at the currencies
* SNB Jordan talks intervention, and the franc gets sold…. 
Good Day… And a Tub Thumpin' Thursday to you… They say that you can teach old dogs new tricks, but I was beginning to wonder about that, with me being the old dog… But then I found the secret recipe to go what I've done below. So skip ahead to see it if you like… But remember to come back here to start your day….  The Eagles greet me this morning with their song: Seven Bridges Road…  A very good morning song, I must say! 
Well, let's see… We start the day with the dollar bugs biting away at the gains the currencies have racked up in the past few trading days. The euro has held the 1.14 figure through this dollar bug uprising, but the Aussie dollar (A$) has fallen back below the 70-cents figure it held yesterday morning.   The European Central Bank (ECB) met this morning and have already announced that they are not making any changes to their negative deposit rate.  ECB President Lagarde will speak at a press conference soon, but probably not before I finish this letter this morning. 
Besides, what's she going to say that would move the markets this morning? She already left rates unchanged….  Well, I'm not going to wait for her, I'm moving on… 
Yesterday, I told you about Swiss National Bank Gov. Jordan was talking about currency intervention to keep the Swiss franc from getting to strong, and it looks like that thought was very timely, as the franc got sold last night and brought back below the $1.06 figure, to $1.0576…  
Gold gained a whopping 70-cents yesterday, closing at $1,810.50…   Well, it was up to $1,819, but that was before the Boys in the band showed up with their usual arms full of Gold short trades… And so the shiny metal had to settle for a 70-cent gain on the day… This morning in the early trading, Gold has given back $4, to start the day on rocky ground… 
Not the terra firma that Silver is enjoying these days… Silver finished the day yesterday at $19.43, up 18-cents on the day, and in this morning's early trading Silver is up to $19.65…  Terra Firma indeed! 
So… I've been doing a ton of reading about things… Things such as there's a bill racing through Congress right now, that has the new stimulus payment tied to a digital dollar… That's right to get your money, it will be in digital dollars… Or this, that the Banking system is looking at a Crete style bail ins… So, if you have over the $250,000 covered by the FDIC, the banks who see large loan losses coming down the pike, will simply confiscate your money that equals the amount over the $250,000 figure.
Now those are two really "pick-me-up" ideas aren't they now? NOT! And it goes to show you that no one really knows what's going on…. But if I were a betting man, I would bet on what's behind door #1, and that is the digital dollar, because…. Just a month or so ago, I told you that the Gov't would cut rates into negative territory, and don't tell me they won't do that, because the economy is showing signs of waking up… The second wave is going to be worse than the first wave of the virus, and like in Texas and California, they have closed back down, so will most of the American economy once again… So there! After going negative with rates, the Gov't will see depositors making runs on banks to get their cash before the begin to start getting charged for it, and soon the Gov't would introduce a new Gov't backed digital currency (Not Bitcoin!) but their own invention, and you'll wake up one morning to look at your bank account and find that the money in your account is all gone! Instead you see something looking like digital currency… And that will be the end of what's left of your civil liberties, my friends…. And wait till you find out how the conversion of your dollars was done, and at what price, etc.
Wouldn't that be a kick in the teeth, if we saw both of those ideas come into play? YIKES! Get me out of here, and like the imitation of the late Great James Brown by Eddie Murphy, when he says, "I don't want to get in the hot tub, it's too hot, in the hot tub"… I don't want to deal with these things, it's too damaging to my kids and grandkids futures….
So, let's move on to something a bit cheerier….
OK… here's what all the hub-bub was about above…  I finally figured out how to get a graph from the FRED!  The FRED is what the St. Louis Fed's research div. is called, and I belong to their research, and each month they send me tons of data, and graphs… And this one caught my attention this morning… It's a graph of the tax receipts by the U.S. Gov't.   Now you may think that there's nothing to see here, just move along…  but take a look anyway, ok?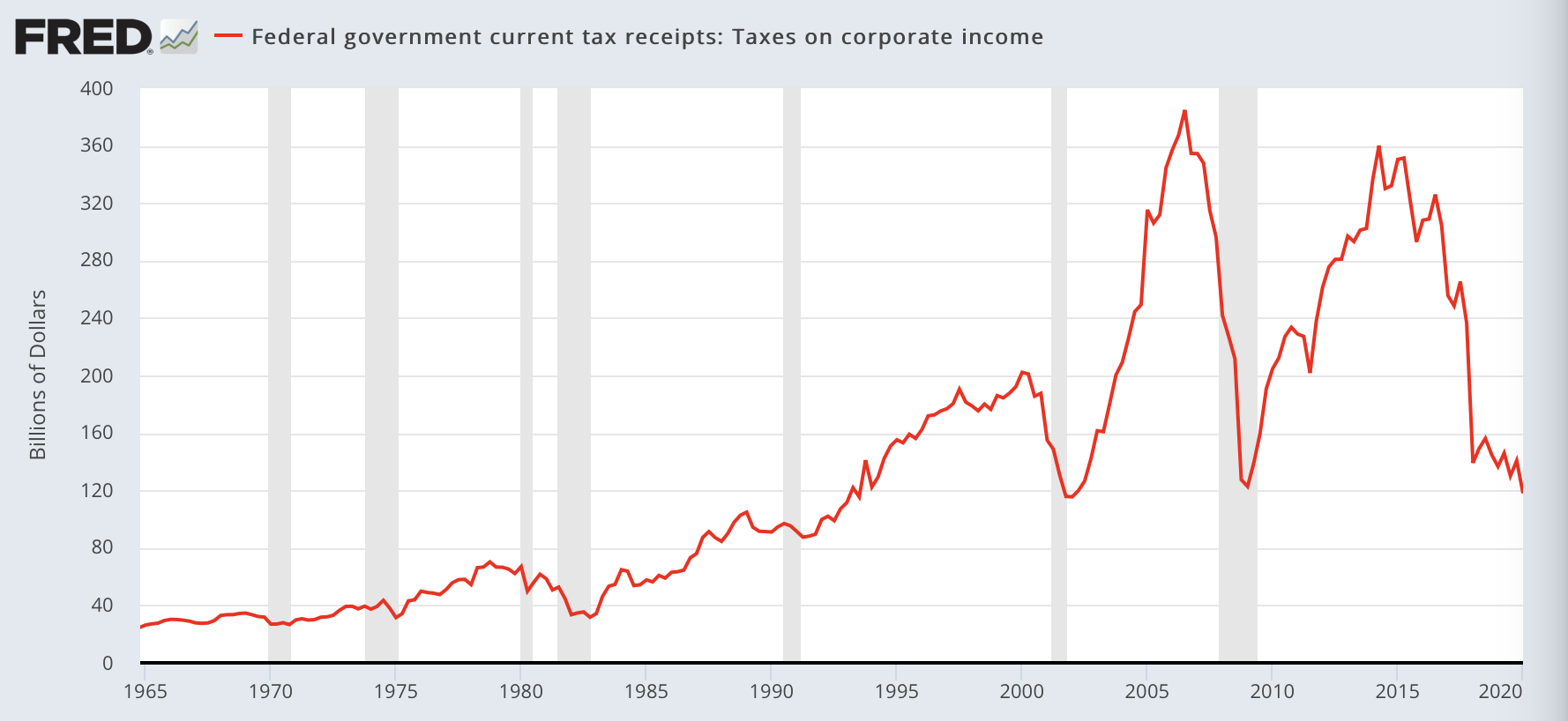 Well, let's see… you can really tell when we've had tax cuts, now can't you? And the deep dive this year, is basically because of the pandemic shutting down the economy… But the really interesting part is the forward looking line continues to go downward…  
And why not? Look, folks, there are no green shoots, (remember that term?) and there are no rainbows, and butterflies, and seashells and balloons, with this economy… We're going to suffer the effects of debt, and a pandemic for years to come… The Great Depression lasted over 10 years, and this new Depression is going to last about as long…  The only difference between then and now is the Fed's money printing that's saving the bell for many a zombie corporation, but the bankruptcies keep piling up in spite of the Fed's attempt to play God… 
In yesterday's Data Cupboard, the June Industrial Production beat the expectations and rose 5.1%, but come on… don't get all ga-ga about what looks like on the outside a recovery… Industrial Production is still 10.9% below the pre pandemic trend…   I know… Let's see what MarketWatch had to say about the IP print…  here's MarketWatch… 
"Industrial production is still down 10.9% compared to pre-COVID-19 trend and production fell at a 42.6% annual rate in the second quarter, the largest quarterly decline since right after the end of the second World War.
What happened: Manufacturing rose 7.2% in June. Auto production jumped for the second straight month but remains nearly 25% below its February level. All categories of production rise except for mining, which includes oil production.
Big picture: Manufacturing is slowly recovering from the sudden stop in March and April but there is a wall of worry facing the sector, economists said, including weak demand, supply chain disruptions, and historically low oil prices."  -MarketWatch.com 
Today's Cupboard has June Retail Sales…  I would have to say that the BHI (Butler Household Index) says that June Retail Sales will be strong…  But again the data is coming from such depressed levels that it would strange if it didn't show strong numbers…  
I don't think you should bypass the words from MarketWatch just like that….  They said, that "a wall of worry that includes weak demand, supply chain disruptions, and low oil prices, are among the things we should be worried about recovering"…    I'm of the opinion that they left out quite a few things that belong on that list…. But I appreciate their contribution to the letter this morning nonetheless… 
Do you know who kept the busiest in industry during the shutdown? The Amazon Prime Delivery people!  Just think about that for a minute… People are in their houses they have nowhere to go, nothing else to do, but surf the internet and find "bargains", and click away!  Click, click, click… and the boxes show up at your door! 
And Again…. I say that the second wave of the virus is causing states to consider shutting down again, as Texas and California have already done…  Not complete shutdowns like before, but putting a halt on their progress in opening up…  And soon the gloom and doom will spread once again… 
I know this has nothing to do with markets, but I'm worried about high school age kids being kept at home, away from their social interactions with friends… Will this kids begin to become depressed?  I'm no pediatrician, or infectious disease doctor, but I did stay at a Holiday Inn Express and so I'm going to play one this morning….  I say open up the schools….  Go ahead get mad and send me an email, but that's my position, and it's not going to change… 
To recap….  The dollar bugs bit back yesterday, and the currencies' recent run to higher grounds, was stopped, for a day at least…  Gold was only able to gain 70-cents on the day, and Silver is on what Chuck calls Terra Firma these days…  Chuck tells us about some things he's been reading about, which aren't very upbeat… And Chuck proves that you can teach an old dog a new trick! 
For What it's Worth…. I received a notice from the good folks at GATA yesterday, that I thought was definitely FWIW worthy stuff, but I wouldn't be able to send the readers to the GATA site if they aren't members. But then this morning Ed Steer highlighted it and gave readers the URL link so I thought what the heck, I'll give it a try!  This article is written by a  researcher who believes the U.S. Gov't and Fed are now behind Gold, and it can be found here: http://www.gata.org/node/20289 
Or, here's your snippet: "Equity Management Associates Managing Partner Lawrence Lepard's second-quarter report for the firm's gold fund, published this week, brilliantly itemizes the circumstances working in favor of the monetary metal and the companies that mine it.
But the report may be most interesting for its speculation that the U.S. government's Federal Reserve and Treasury Department are attempting a controlled retreat with gold and now are "sort of" on the side of gold investors.
Lepard writes: "It all comes down to faith in the stewards of the currency — the Federal Reserve and by extension the U.S. Treasury. If faith in them increases, gold will fall in price. If faith in them diminishes, gold will accelerate in price."
"Because they are in a sovereign debt crisis/trap, I believe the Fed knows that the only way out is to inflate. The alternative is a deflationary collapse that they would view as infinitely worse."
"I believe that they will attempt to have a managed retreat. That is, they know they need inflation and a higher gold price. They just don't want it to happen too quickly or in a disorderly fashion, because if that occurs, Gresham's Law will kick in and the dollar will fail."
"So as investors in gold and gold mining equities, I believe we now have the government on our side — sort of. We have to be prepared for them to take actions to attack gold if its price begins to accelerate too dramatically.""
Chuck again…  Well, now, wouldn't that be akin to changing horses in the middle of a stream?  Paul Volcker won his war with inflation back in the day, but his war wasn't just with inflation it was with the soaring price of Gold at the time…  But if this report is true, then I'll all for it!  
Market Prices  7/16/20: American Style: A$ .6987, kiwi .6546, C$ .7391, euro 1.1410, sterling 1.2554, Swiss $1.0576, European Style: rand 16.6473, krone 9.3062, SEK 9.0665, forint 310.30,  zloty 3.9360,   koruna 23.3936, RUB 70.90, yen 107.12, sing 1.3979, HKD 7.7543, INR 75.01, China 6.9913, peso 22.33, BRL 5.3624,  Dollar Index 96.13,  Oil $39.75,  10-year .61%, Silver $19.65, Platinum $836.00, Palladium $2,048.00, and Gold… $1,806.60
That's it for today…  Man some damaging storms moved through here yesterday… It was raining cats and dogs…  I once told the story of why people say it's raining cats and dogs to my grandsons, and they both looked at me like I had a third eyeball! They said, "you're making that up!" and so I said, believe or don't!  Kids… They think they know everything! I'm sure my parents and their parents all said the same thing!  Well, two more Pfennigs and then I'm off on my annual summer vacation!  I had a friend say, "why do you call it vacation when you're retired"… I don't know, it's just  old habit I guess!  The Doobie Brothers take us to the finish line today with their song: South City Midnight Lady…  I absolutely love this song…. There are songs that I like, like a lot, and then love… and this is one of those that I love!   And with that, I hope you have a Tub Thumpin' Thursday, and Fantastico Friday tomorrow, and will Be Good To Yourself!
Chuck Butler